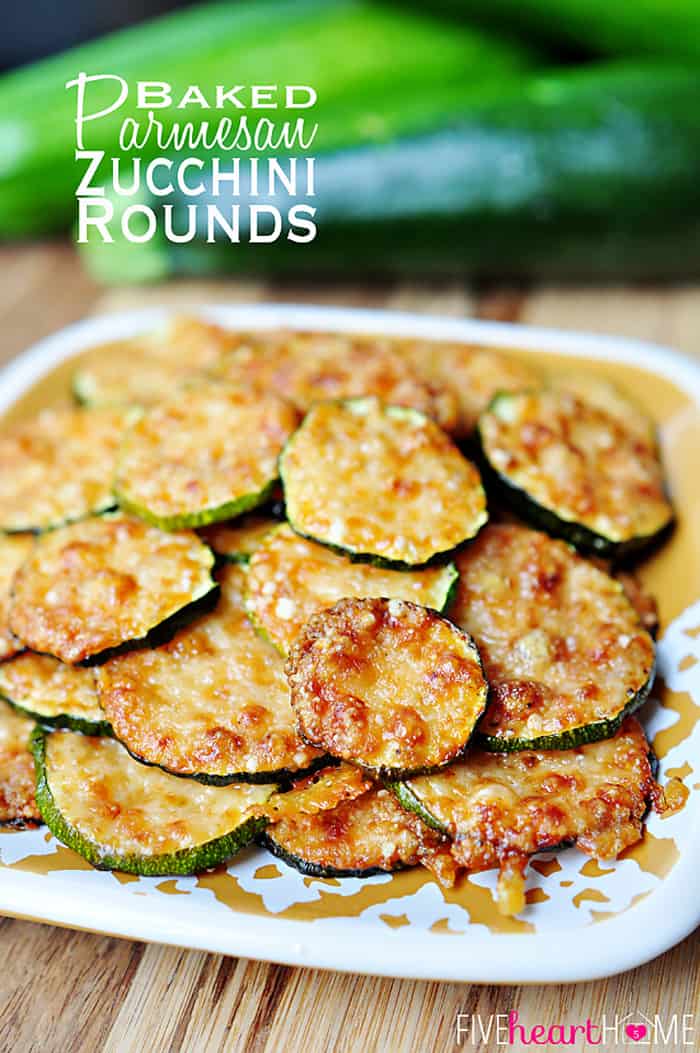 Zucchini is one of those summer vegetables that not only grows abundantly, but it tends to come in all at once. Thanks to my generous in-laws and their bountiful garden, we are the lucky recipients of boatloads of zucchini each summer, and I try to use it up in a variety of ways, from zucchini bread and muffins to zucchini fritters to hiding it in as many dinner entrees as possible.
However, my old standby recipe for enjoying zucchini as a dinnertime side dish are these Parmesan Zucchini Rounds. I hesitate to even call this a recipe because it requires only two ingredients and about five minutes to prepare.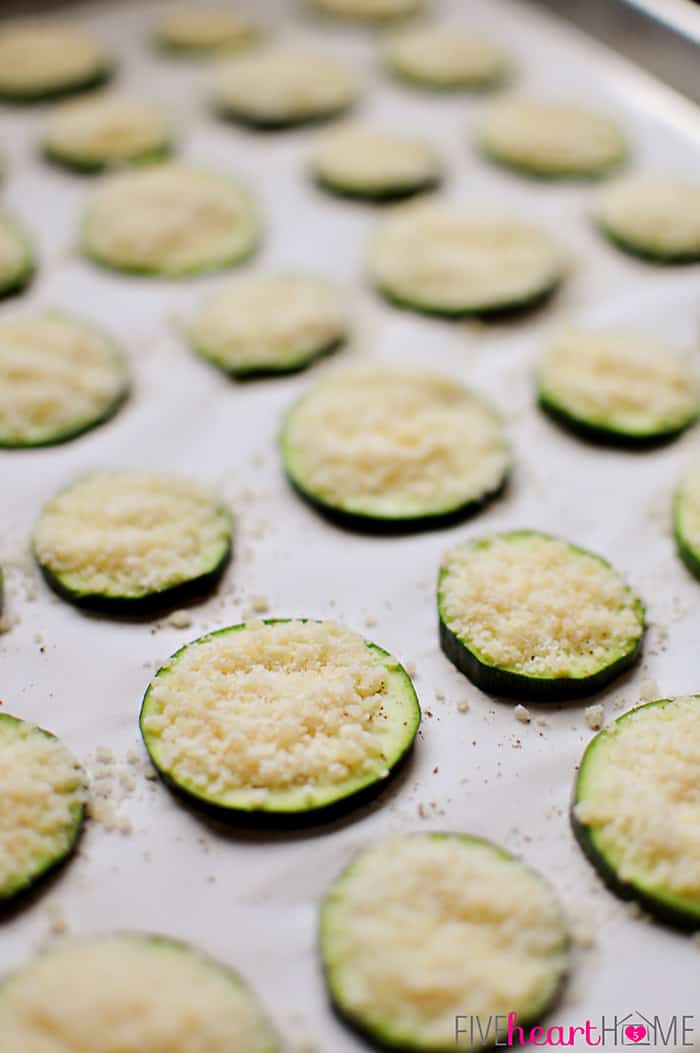 If you want to get all wild and crazy, you can sprinkle your zucchini slices with a bit of garlic salt and freshly ground black pepper before spooning on the Parmesan, which is what I decided to do for this batch. Of course, if you elect to do that, budget an additional 30 seconds of prep time into the long and arduous process of making this recipe.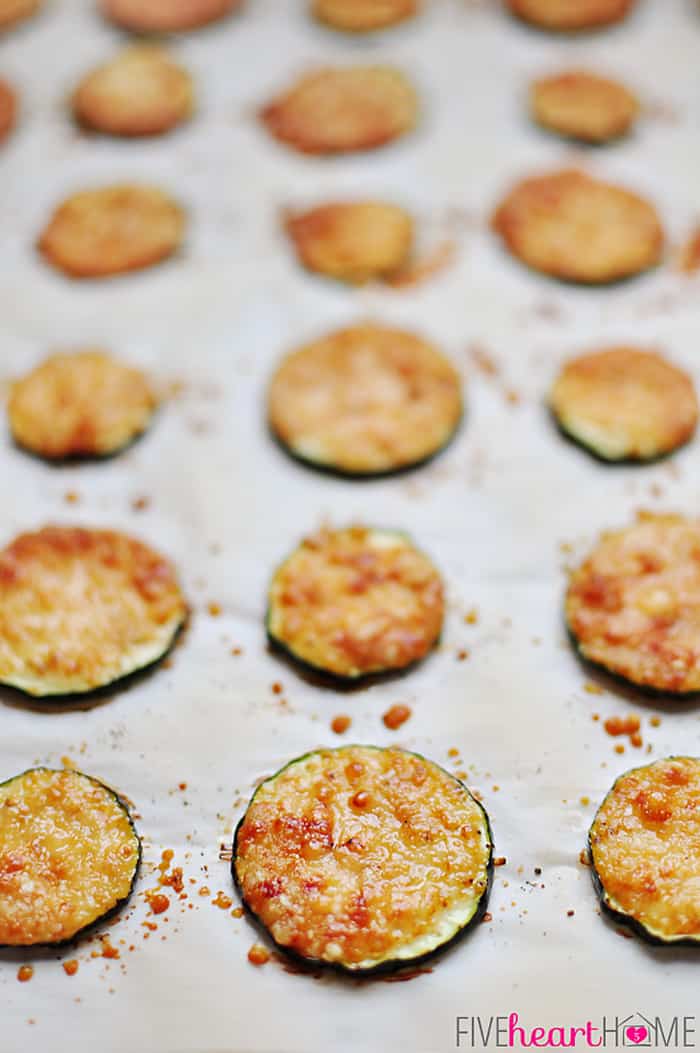 Even those who claim to dislike zucchini will be popping these little babies in their mouth as fast as humanly possible. By baking at a relatively high temperature, the zucchini gets nice and soft, with an almost creamy texture, while the Parmesan turns crispy and golden brown.
You can experiment with the thickness of your zucchini slices and the ratio of Parmesan to zucchini to determine your sweet spot, but I find that 1/4-inch thick slices work pretty perfectly. And since I like to put a generous mound of grated Parm on each zucchini round, I end up using about 1/4 cup of cheese per every medium-sized zucchini that I slice up.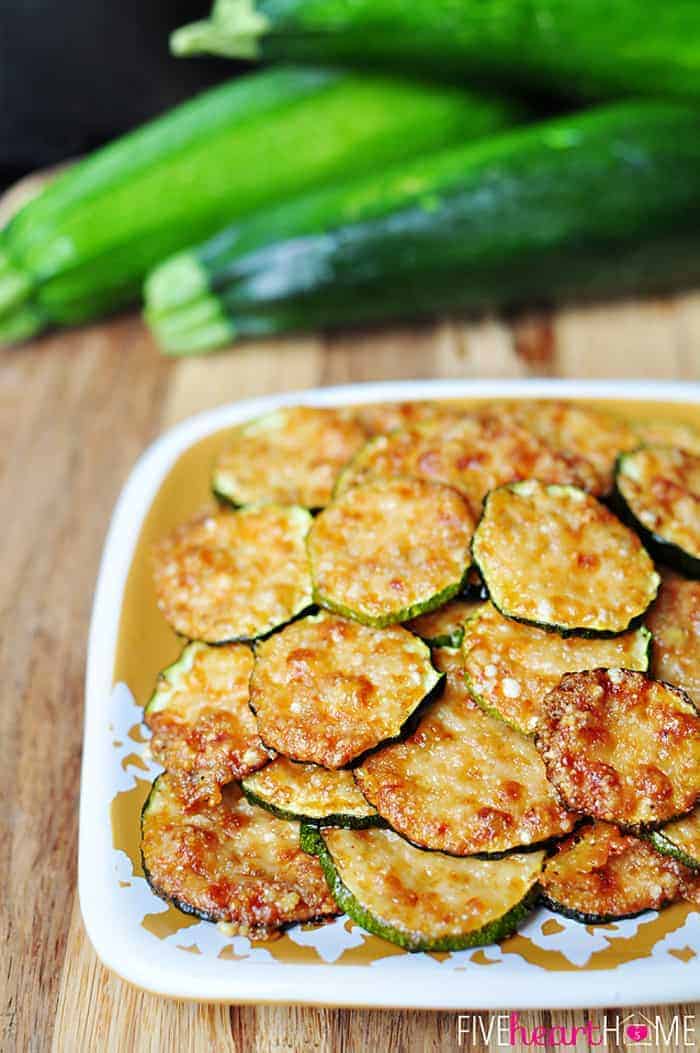 Regardless of how you decide to customize these, I definitely recommend making more than you anticipate needing. For one thing, the zucchini rounds do shrink a bit during the baking process. But on top of that, they are just so dang tasty. Don't tell anyone, but I may have eaten an entire pan of these all by myself…a time or twelve.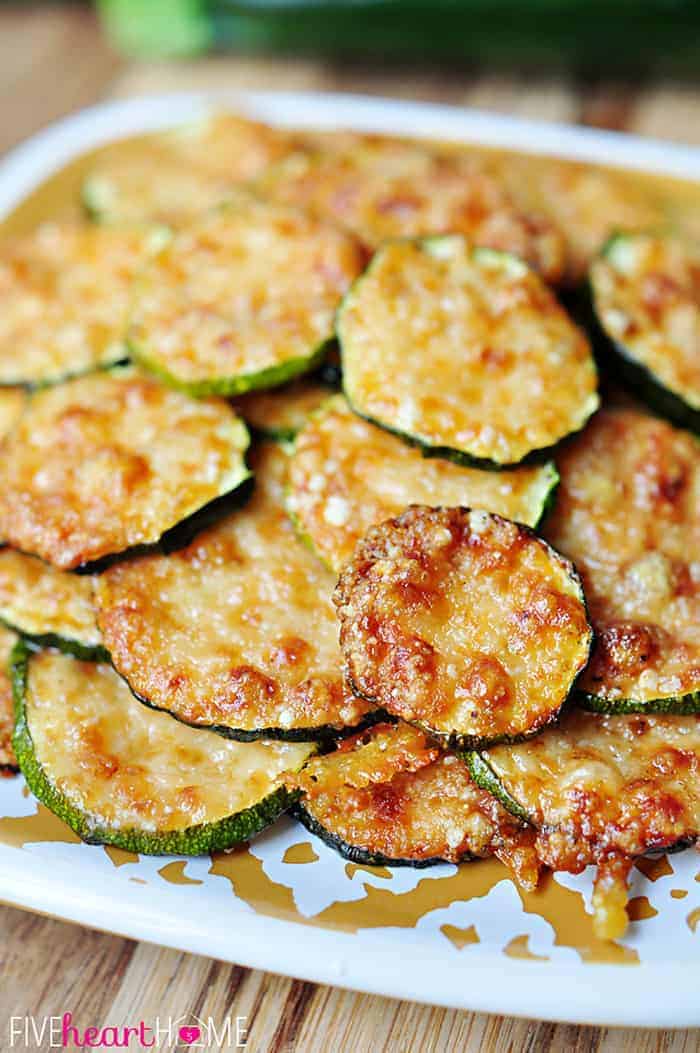 Oh, and feel free to place your zucchini slices much closer together than depicted in the pics on this post. I evenly spaced them for more aesthetic photography, but typically, I cram them on the pan and don't pay any heed to neat, symmetrical rows.
A certain someone at my house was very intrigued by my zucchini endeavors on this particular day.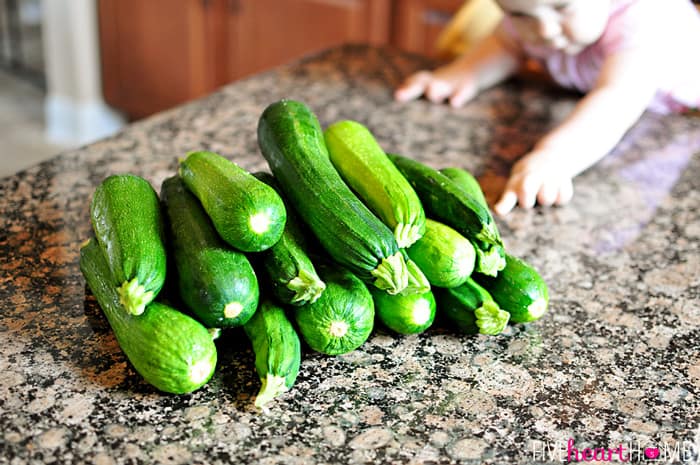 As you will see below, towards the end of my photo shoot, she just couldn't resist touching, and then grabbing, and then face planting ("Mama, I smell!") into my carefully arranged plate. And after that, she didn't appreciate being informed that she needed to step away from the zucchini.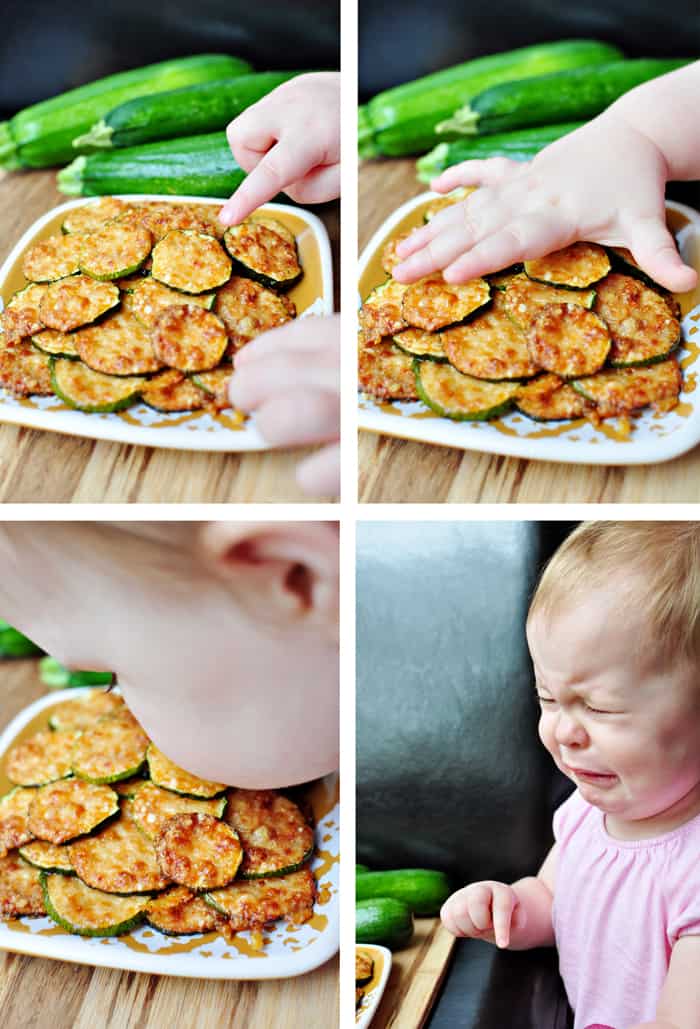 If you love zucchini as much as my little gal, you definitely need to give these Parmesan Zucchini Rounds a try. If you hate zucchini, they just might change your mind. And if you have lots and lots of fresh garden zucchini to use up every summer? I think you'll find yourself falling back on this recipe quite often!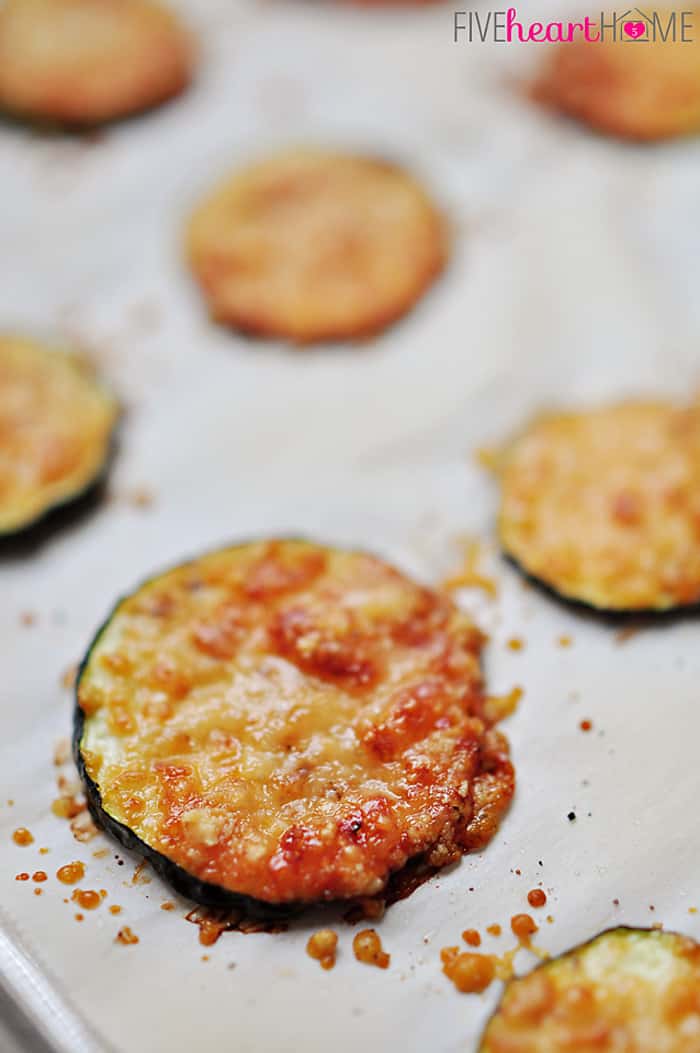 Baked Parmesan Zucchini Rounds
A simple summer side dish of Baked Parmesan Zucchini Rounds comes together quickly using only two ingredients...and will disappear from the table even faster!
Ingredients
2 medium-sized zucchini
1/2 cup freshly grated Parmesan cheese
Garlic salt & freshly ground black pepper, optional
Directions
Place oven rack in center position of oven. Preheat to 425°F. Line a baking sheet with foil (lightly misted with cooking spray) OR parchment paper.
Wash and dry zucchini, and cut into 1/4-inch thick slices. Arrange zucchini rounds on prepared pan, with little to no space between them. If desired, lightly sprinkle zucchini with garlic salt and freshly ground black pepper. Use a small spoon to spread a thin layer of Parmesan cheese on each slice of zucchini. Bake for 15 to 20 minutes, or until Parmesan turns a light golden brown. (Watch these closely the first time you make them and pull them out of the oven early if the Parmesan is golden before 15 minutes!) Serve immediately.