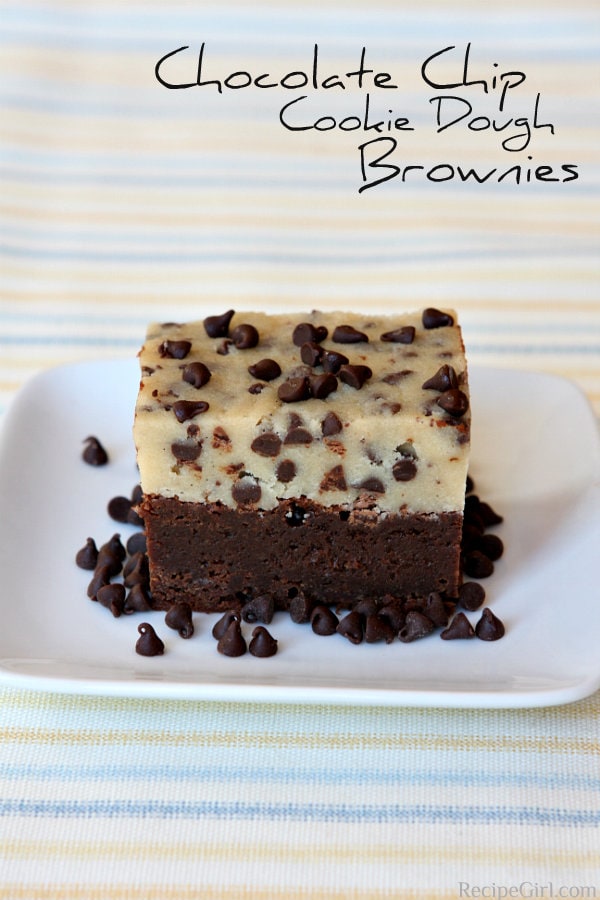 Okay, first "observation":
The cookie dough is "grainy."
Well, I've got news for y'all. Cookie dough is grainy. That's just the way it is. In this version, I melted the butter and then whisked in the sugars to see if I could make it less grainy and more dissolved… it might be a little better, but it's still grainy. If you're a cookie dough lover then you know what I mean and you don't care. Cookie dough is just (by nature) grainy! Someone had suggested trying powdered sugar to avoid the whole grainy-thing. I wasn't into that. Real chocolate chip cookie dough must have both white granulated sugar and brown sugar or it doesn't taste like chocolate chip cookie dough. So there.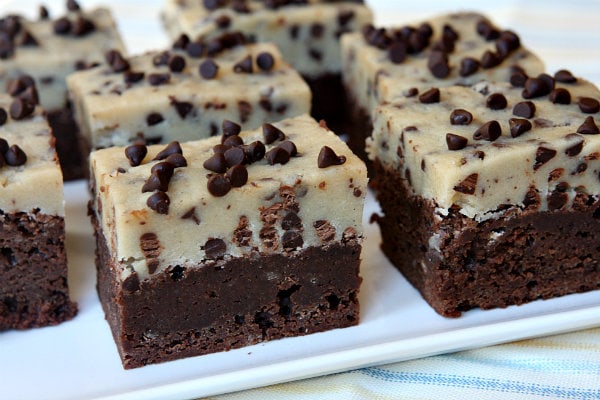 Second observation:
The cookie dough layer isn't thick enough.
In this version, the brownies are baked in a 9×9- inch pan. The brownie layer and the cookie dough layer are just about even. That should satisfy just about everyone, right?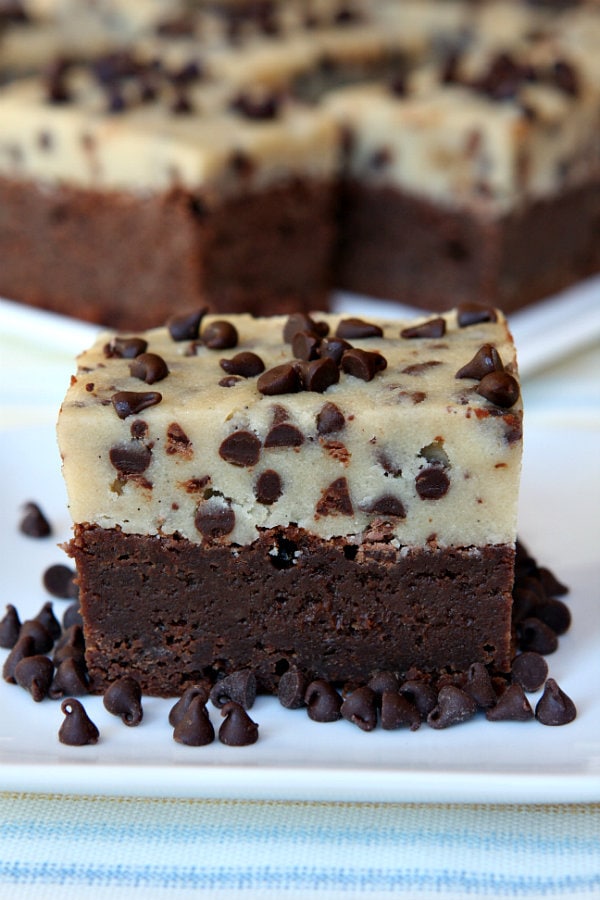 Third observation:
The brownie layer isn't fudgy… or it has no flavor (in other words… it's not good).
This (new and improved) brownie layer is FUDGY. Though I have to admit, I don't think anything is wrong with the original
chocolate chip cookie dough brownies recipe
. I like both, but I do like this one better.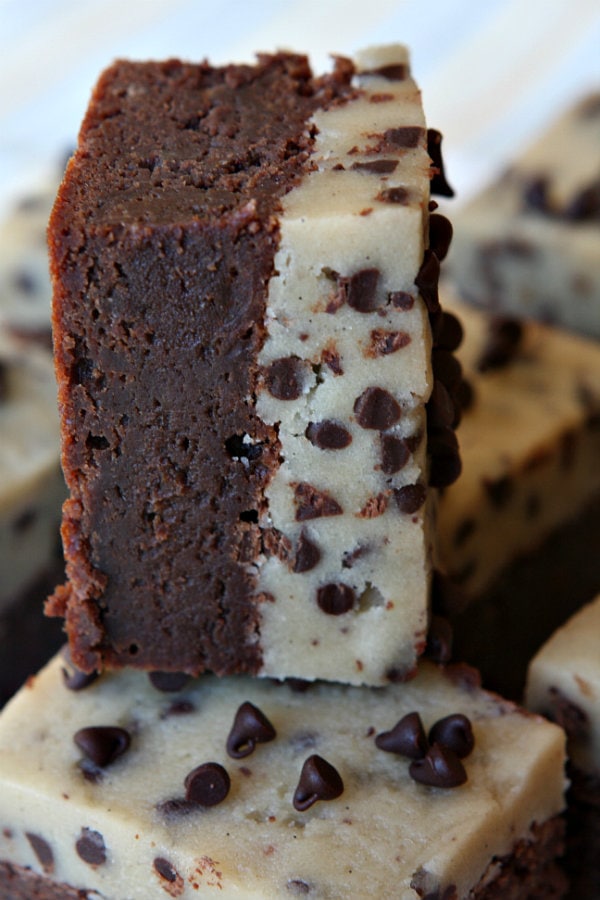 Fourth observation:
The cookie dough layer doesn't stick to the brownie layer.
I don't have this problem, so let me share
exactly
how I construct my brownies so it works per-fec-to: I bake my brownies in a pan lined with parchment paper, then I put them in the refrigerator until they are all cooled down and pretty firm. While the brownies are baking, I make the cookie dough and then refrigerate it until the cookie dough is chilled and easy to work with (firm-ish). Then I take the brownies out of the fridge, wet my hands (or spray them with nonstick spray) and pat the cookie dough on top of the brownies into an even layer. Then I wrap the pan with plastic wrap and refrigerate the brownies until they are firm. Take the brownies out of the pan and place them on a cutting board. Because I'm obsessed with neat edges, I use a very sharp, large knife to cut off all of the edges, then I cut the brownies into small, clean pieces. Clean pieces require that you wipe your knife with a paper towel between cuts.
That's it! You've learned all of my secrets. And now you can make my new-and-improved version of this chocolate chip cookie dough brownies recipe. By all means, let me know what you think of them… and if you have any feedback about these! Hopefully, they are perfect. That's the goal here. See, I listen to my readers… and keep workin' it to make you happy and satisfied! It's a tough job (you know… re-testing chocolate chip cookie dough brownies over and over again to find the perfect version), but somebody has to do it, right
CHOCOLATE CHIP COOKIE DOUGH BROWNIES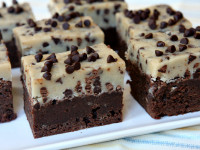 INGREDIENTS:
BROWNIE LAYER:
3/4 cup (1 1/2 sticks) unsalted butter
1 1/2 cups bittersweet chocolate chips
1 cup granulated white sugar
1/2 cup packed light brown sugar
4 large eggs
1 teaspoon vanilla extract
1/2 teaspoon salt
1 cup all-purpose flour
COOKIE DOUGH:
3/4 cup (1 1/2 sticks) unsalted butter, room temperature or almost melted
3/4 cup granulated white sugar
3/4 cup packed light brown sugar
1/4 teaspoon salt
2 tablespoons milk or cream
1 1/2 teaspoons vanilla extract or vanilla bean paste
1 cup all-purpose flour
1 cup miniature chocolate chips
additional miniature chocolate chips, if desired (to garnish the top)
DIRECTIONS:
Prepare the brownie layer-
1. Preheat the oven to 350 degrees F. Spray a 9x9-inch pan with nonstick spray, then line with a strip of parchment paper so that it covers the bottom and comes up two sides of the pan. Spray the parchment with nonstick spray too.
2. In a microwave safe bowl (or in the top of a double boiler or pan set on top of a pan of simmering water), microwave in 30 second bursts to melt butter and chocolate chips together until all is melted and smooth. Whisk in the sugars, then whisk in the eggs, vanilla and salt. Sift flour into the bowl and stir that in too. Scrape the brownie batter into the prepared pan. Bake for 25 to 30 minutes, or until the brownie layer is cooked through (toothpick inserted into the center comes out clean). Place the pan of brownies in the refrigerator to speed up the cooling process (or cool at room temperature and add the cookie dough layer later).
Prepare the cookie dough layer:
3. In a large bowl, use an electric mixer to combine the butter, sugars and salt until soft and creamy (1 to 2 minutes). Mix in the milk and vanilla. Sprinkle in the flour and mix in until combined. Stir in the 1 cup of chocolate chips. Scoop the cookie dough onto the top of the brownies and spread onto the brownie layer. I find that it's easiest to do this if the brownie layer is chilled and firm. Wet your hands or spray them with nonstick spray and pat the cookie dough on top in a even layer. Sprinkle additional chocolate chips on top to create a nicer, visual appearance. For easy, clean cutting, chill the brownies (wrap the brownies with plastic wrap and chill until firm- 1 to 2 hours or up to 2 days).
4. Cut the brownies: Run a knife along the sides of the brownie pan and then use the parchment paper to lift the brownies from the pan and onto a cutting board. Slice the brownies with a sharp knife, wiping the knife with a paper towel between cuts. If you'd like all of your slices of brownies to look clean-cut without edges, use the knife to cut the sides of the brownies off before cutting pieces. Keep brownies slices covered and chilled until ready to serve.